Downloads
In order to play, you need OTClient, or an compatible IP changer and an old Tibia client (for 8.6 protocol).
If you do not have an account to login with, you need to register an account HERE.
How to connect and play using OT Client: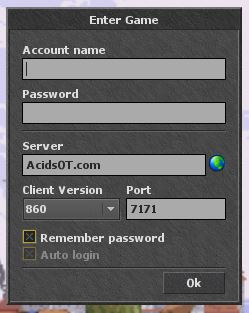 Make sure you have installed Microsoft Visual C++ Redistributable drivers.
Download and extract OTClient 1.4.2 AcidsOT Edition to an empty folder. (dont run it inside zip file).
Run otclient.exe to start the client.
In the Server box, type in: acidsot.com
In the Client Version checklist, select: 860
In the Port box, type in: 7171
You should now be able to connect to the game after you type in your username and password.
The OTClient is developed and maintained in the open source mehah/otclient repository, which has significant performance improvements over other OTClient versions.
How to connect and play using cip client:
Download and install the 8.6 tibia client if you havent already.
Download and run the IP changer.
In the IP changer, change Client Path to the tibia.exe file where you installed the client.
In the IP changer, write this in the IP field: acidsot.com
Now you can successfully login on the tibia client and play clicking on Apply.

Use Linux? Download Tibia client 8.6 for linux HERE.
Alternatively compile OTClient for Linux or Mac OSX: Compiling on Linux, Compiling on Mac OS X
Server Information
Registered accounts: 1285
Registered players: 1546