Znote's AutoLoot System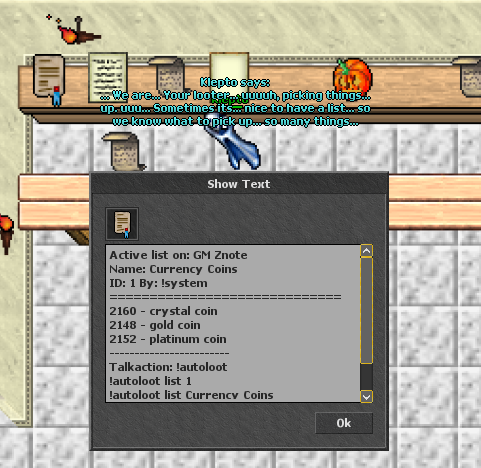 Quickstart guide:
This comprehensive AutoLoot System allows you to create, manage and share autoloot lists with the community. It allows you to own multiple lists, use lists created by others, configure your own lists and easily switch between lists. You could for instance create, configure and switch different lists based on what you wish to hunt.
Item management:
List management:
Configure backpack autoLoot destinations:
Autoloot will search inside your main backpack after 2 colored backpacks, if it finds them, it will prioritize adding loot to them until they and any subsequent containers are full.

A golden backpack directly in your main backpack will prioritize gold, platinum and crystal coins.

A grey backpack directly in your main backpack will prioritize any loot item.
If you dont have these backpacks, or if they are full, the main backpack (and any available containers inside it) will be used.
You can buy these backpacks from the NPC Riona in Zion's Bazaar.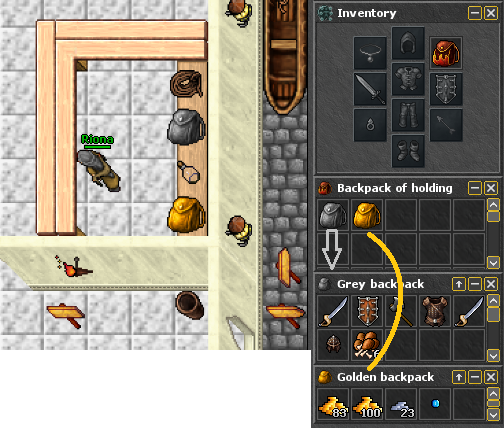 Active list and items:
List of all... lists:
Show this [help] information:
Extra help information for [add]:
Extra help information for [remove]:
[To top]
-
[To quickstart]
Extra help information for [list]:
Extra help information for [use]:
Extra help information for [create]:
[To top]
-
[To quickstart]
Extra help information for [import]:
Extra help information for [name]:
Extra help information for [deletelist]:
[To top]
-
[To quickstart]
Server Information
Registered accounts: 1285
Registered players: 1546